The easiest Self-scanning solution on Euroshop!
At Euroshop 2017 in Düsseldorf, Scapp Retail – the self scanning solution for every retailer – was presented as an integral solution for Suzohapp Cash Complete. By far, Scapp Retail has proven to be the easiest self scanning application available at Euroshop. Niels van Golden explains: "Our Self Scanning solution is very easy for customers to use while shopping, but it also is very easy for retailers: with the click of one cable, we can turn all your existing points of Sale (POS) into a Self Scanning Checkout."
Full closed payment cycle with Suzohapp Cash Complete
At the Suzohapp / Scan Coin booth (Hall 6, B the self scanning solution for every retailer was demonstrated, fully integrated to the Scan Coin Cash Complete solution, providing a seamless self-scanning solution, including secure cash payments.Cash is touched only by the customer and then securely stored into closed registers, ready for cash recycling.
Why Scapp Retail is the innovation in Self Scanning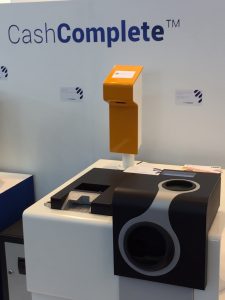 Scapp Retail is a unique solution for Self Scanning. The patented POD will turn every existing Point of Sale (POS) into a Self Scanning POS, with the click of one cable. With the POD, your customers are able to start using self scanning on their mobile device and checkout securely at your existing cash registers. With Cash Complete, a full secured cash cycle can be achieved, providing a seamless self checkout option for both card and cash payments.
About Euroshop
Since its debut in 1966, EuroShop has developed into the world's number one trade fair for retail investments. Once again in 2017, this key international event promises exhibitors and visitors the chance to market themselves profitably, intensify or make new contacts, as well as identify and seize opportunities within the market.
To ensure an easily navigable, meaningful structure and presentation of the comprehensive exhibitor offerings, EuroShop is subdivided into four independent but complementary areas: EuroConcept (shopfitting and equipment), EuroSales (visual merchandising and sales promotion), EuroCIS (communications, information, security technology) and EuroExpo (stand design and construction).
Scapp Retail is there, together with some 2000+ exhibitors from nearly 60 countries and around 110,000 trade visitors from across the globe. As always, top-class congresses and hands-on forums round out the trade fair offerings.